May 11th
Idyllwild(178.6)-Somewhere below Fuller Ridge(195.5)
Day's Mileage: 16.9 trail miles(+2.5 side trail)=19.4mi
Today was the intimidating Fuller Ridge. It is on the north side of San Jacinto Mtn and is known for the treacherous unmelted snow that can be difficult to cross on a steep slope. Word had gotten around that most hikers were now able to get through without needing an ice axe or microspikes, so Top Shelf and I decided to go with just our hiking poles.
We got a late start because the only shuttle available was at 8am and we got to spend the day hiking with Blisters because he had the same ride. It was a very enjoyable day and I felt like it was the most relaxing hiking day so far. The weather was perfect, water sources were frequent, and camping was plentiful. Because of all of that, we weren't forced into a set mileage and we could stop whenever we wanted. We had great views all day too. Here's an example.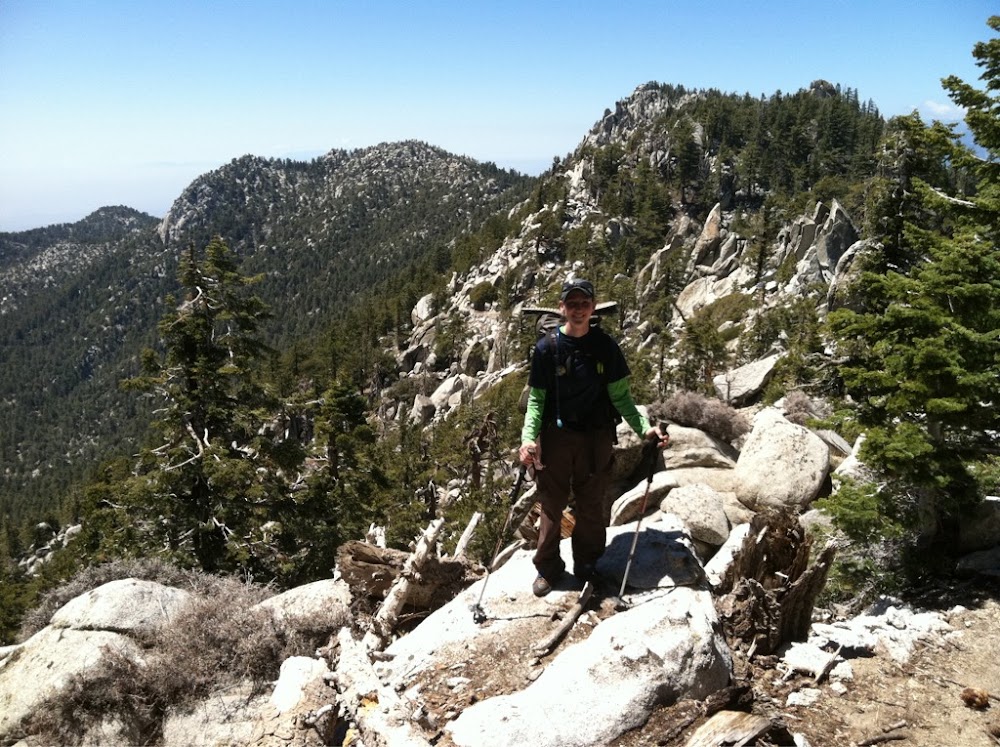 The first half of the day was uphill and took us to our highest elevation yet at 9050ft. It was a lot of uphill, but fairly gradual. There were patches of snow on the way to the ridge that slowed us a bit. When we got to the 2mi section everyone was worried about, we quickly learned what all the fuss was about. I have a video I will post later, but for now this picture of me and Blisters will do.

As you can see, we were on snow that was on a steep slope. It was mushy snow that was slick and we couldn't get much of a foot hold. Blisters had his microspikes and we envied him. It was about and hour of careful walking and lots of slipping. Top Shelf and I each slipped a handful of times and I can see how someone could really slip and slide dangerously down the steep slope. It was a good preview of what we will see in the Sierras and we both look forward to having microspikes.
We finished the tough stuff by 3:30pm and we knew that what laid ahead is at least a day worth of downhill to get us back into the desert. Blisters went down a bit and set up camp. Top Shelf and I decided to cruise down til 5:30pm and set up tents early since there was no reason to push too hard. We found what may be our favorite camp site so far.

We have a full view of the desert below us with the California hills and another view of San Jacinto Mtn. We were in bed by 7:30pm and both of us were surprisingly tired even though it was a shorter day than we usually do. It's nice to go to bed early tonight and be ready for our downhill cruise into the desert tomorrow.

This is the northern view of sunset that we had. That's where we're headed tomorrow.