May 29th
Mile 500-Hikertown(518.4)
Today's Mileage: 18.4mi
So let me preface this post by mentioning that we camped overlooking the Mojave Desert last night. Yes, the notoriously hot, windy, and waterless section of the PCT. It was calm last night and we knew a cold front was coming in. It was the first night I could see my breath in my tent and I should have realized that was a sign of what was coming…Around 2am, we were hit with strong winds and periods of rain on and off. When it was time to get up at 5:30am, I yelled over to see if Top Shelf wanted to wait until the rain slowed. He said yes and within 15min, we changed our minds because it didn't seem like it was going to change anytime soon and the rain was light. As we started hiking, the winds got stronger and the rain became snow and sleet blowing everywhere. I was so glad I had rain pants to keep me warm. Totally worth carrying for 500mi so that I could be dry and warm today! This is not what we expected to be wearing as we hiked into the Mojave Desert where it is usually well over 100 degrees!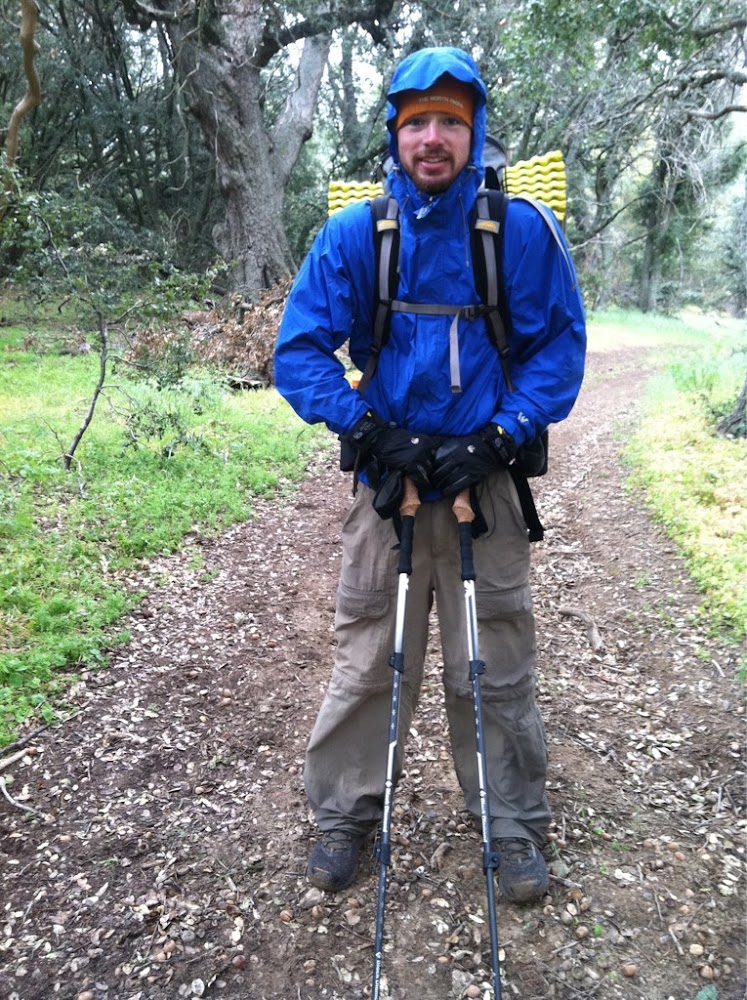 After a few hours, we hiked down out of the clouds and out of the precipitation. We could see the Mojave ahead of us.

It was still cold and windy when we got to Hikertown. It was much cuter than I had heard. It was like a mini town with dogs and roosters walking along.

The little buildings can be rented real cheap for the night. Our original plan was to drop by and leave, but with the night we had and the less than enjoyable weather, we decided to stay. We rented out the tiny Doctor's Office (on the right) and were glad to have an indoor place to hang out the rest of the day. Top Shelf even got a ride to town with other hikers to get some food.

Balls and Sunshine were here and Sunshine's sister and mom were visiting. They made all of us dinner and it was a nice day. The other hikers who made it in today were Blister, Mother Goose, Alphabet Soup, Wandering Dot, Outpost, Echo, Special Delivery, Mark and Holly, Matthias, Alex, Colin, the Shotgun Sisters, and Sunshine Sr.
We are 48mi from Tehachapi, so we plan to split the next two days into 24mi days and arrive at Rockin's two nights from now. Also, my SPOT that I use for my location each day is acting up, so it isn't consistently so I will have to fix that there.