May 8th
Dirt Rd(134.8)-2.5mi N Hwy 74(153.8)
Day's Mileage: 19mi
It was a good night's sleep, but after all those miles yesterday, today was the first time I felt sore in the morning. My thighs felt it and I was just a bit less energized than usual. We knew we only had 16.5mi to Paradise Valley Cafe, so I set out with Speed Bump and Top Shelf.
The mileage was much more difficult than we anticipated. Lots of continuous ups and downs. It was quite a workout all day, but the day was windy and cool in the 50s. The trail wound on ridges most of the way and we were treated to the most spectacular scenery most of the day. I was excited to see the new flowers and views around each turn. I took awhile because I was taking a lot of pictures.

The combination of yesterday's milage and today's terrain took its toll on Speed Bump and he got tendinitis in his shin. We all hiked solo most of the day leap frogging and taking breaks together. We were all pretty worn out by the time we got to the highway to the cafe. At the highway, another trail angel was set up and they gave us a ride a mile down to the cafe. Top Shelf and I were disappointed to hear they didn't have milkshakes, so we are still on the hunt and hoping to get one in Idyllwild in a couple days. The burgers were good though.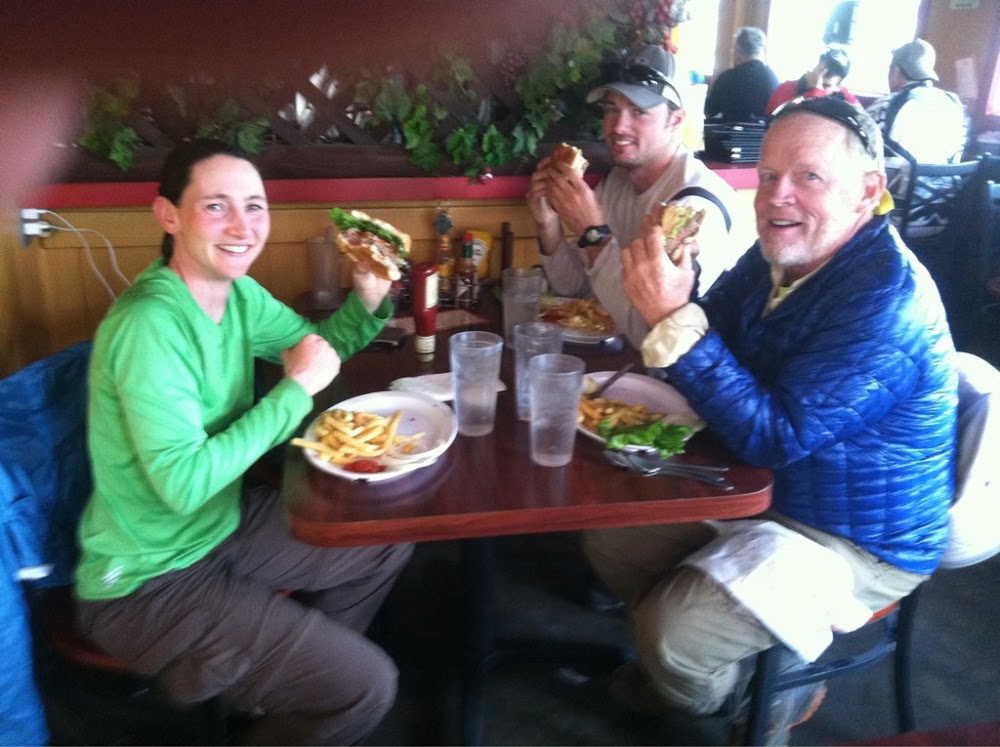 After the cafe, Speed Bump decided to stay in town to rest his leg and Top Shelf and I returned to the trail. We hung out at the trail angel stop for awhile and contemplated whether to move on. There is a wind advisory warning til midnight and it was really windy in the area they were in. Really windy! Plus there is a chance for showers. We didn't want to hike too much further, but it wasn't even 5pm yet and we thought we could find a more protected spot in the next few miles.
After about an hour of hiking, Top Shelf spotted a small area just down and off the trail that seemed well protected. We both have the Tarptent Contrail. They are not free standing tents and require proper staking to make them enjoyable. We took extra care in staking them just right to hopefully keep us protected from the showers and wind. As I write this, it has already started misting and I think we did a good job…hope it holds!

Also, as I write this, I've noticed that my NeoAir air mattress has a hole in it. That is not uncommon for a NeoAir and it is still usable for now and staying partially inflated, but I will probably need to get another one or something different in two days when we get to town. Urgh!