July 12th
Sonora Pass/Hwy 108(1018.3)-Pack Trail Junction(1038.3)
Today's Mileage: 20mi
I was a tired, cranky camper today. The day started out good(I had dry shoes!) and I slowly went to the dark side as the day continued. Last night, we had an epic fail after 2hrs of trying to hitch from Kennedy Meadows North. There were hardly any cars even driving on the road on a Monday night. We ended up just camping along the road and we started hitching by 7am this morning. I got the first car that drove by and Snowblind and Little Jimmy rode with me. Balls, Sunshine, and Free Range got a hitch about 30mins later and we were all on the trail hiking by 8:30am. We were hoping for good trail and big mileage. We had a good uphill climb to start the day and great views.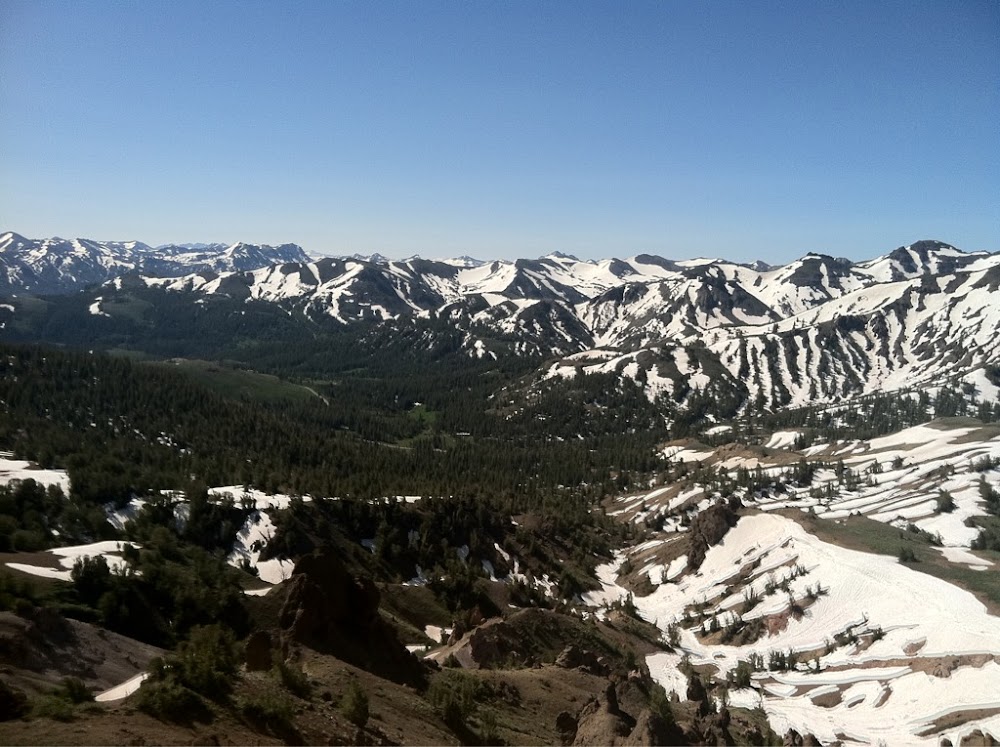 We were also excited that we are finally seeing wildflowers!

My ankle was screaming at me more than usual and that wasn't fun. Yesterday, most of the inclines going up the pass put most of my weight on my bad ankle and it will probably take a day or two to mellow out. After the initial incline, we were expecting clearer trail that was mostly downhill. Um, that didn't exactly happen and I am SO over the snow! It took trail that should have been level or downhill and we were again having to continually go up and over large mounds of slushy snow. I fell down and slipped a ton today. We all had some good falls. Just the energy it took to get up out of the snow with a full pack was frustrating me. I took few pics today with my bad mood, but I did like this one.

After lunch, Balls and I switched MP3 players for a couple hours and it was nice to hear a different set of songs. We ended up spending probably 50% of the day on snow on and off. It just got to me and I was drained. My body did not want to hike today. I'm also fed up with being wet and cold. I get cold easily and I just haven't been able to warm up. Enough of the snow already! We still wanted to do big miles and we ended up hiking til 7:30pm to get the 20mi in. Everyone else had a much better day than me and enjoyed the fact that it's still better than what we've been doing. I just imagined better, so now I'm setting my expectations low for the next few days so I don't have anymore tantrum days. We are currently camped with snow all around us, so I know what's coming.
The good news is that we are 2-3 days from Echo Lake. We are all going to celebrate the end of this challenging month in the Sierras. We are probably heading to Tahoe and possibly Reno. My plan is to see Harry Potter and play Blackjack at a casino! So excited! Most hikers go to the casino for the buffet, but I am going to play in honor of my dad who loves Blackjack and takes me to the casino at home. I kept telling myself today that each mile we did got me one mile closer to being out of the snow! Hopefully, tomorrow will be better.