July 21st
Near Logging Rd(1177.5)-Sierra City(1197.6)
Today's Mileage: 20.1mi

The whole group I was camped with (Balls, Sunshine, Sly, Dutch, Twiggy, Spock, and Spice Rack) got up early to get into Sierra City. We were all looking forward to getting to town and we heard the last 20mi into town was snow free. The rumors were right! It was AWESOME!!! We finished the 20mi by 1pm. Just a couple weeks ago, doing 20mi in a single day would be impossible. We still have some snow ahead of us in clusters, but hopefully the days of full snow, like yesterday, are over. Yay!
I am still not feeling great and just need to recharge in town. I know my energy will come in waves and it's definitely down right now. My ankle was not great on the rocky, uneven downhill, but I was thankful that at least it wasn't snow.
Here's Sly, Balls, Spice Rack, Sunshine, Spock, and Twiggy speeding into town.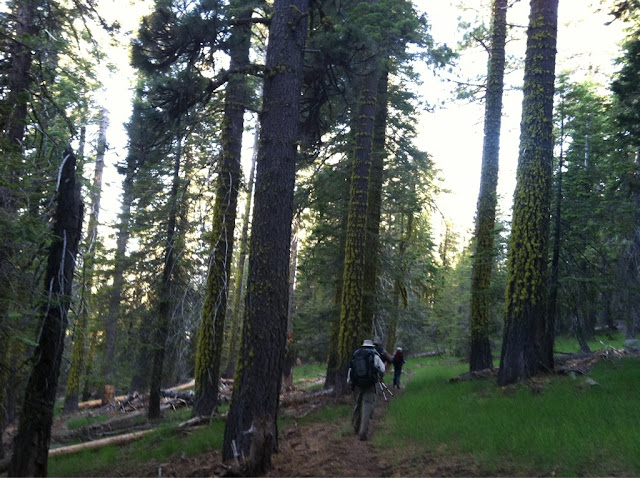 I'm just loving being in the woods!
Sierra City is less than a mile long "downtown" and it's great to have everything within walking distance. There are about 17 hikers in town and all the hikers are staying at the Red Moose Cafe/Inn. It is a locally owned, adorable place, where they serve great food at an affordable price for hikers. Mike and Margaret, who own it are just amazing people. They also let you take a shower, do laundry, and camp out back for free! Plus, the wifi is actually faster than a snail:) It's a great stop and I recommend it to all hikers.
Sunshine and I outside the Red Moose.
My original plan was to zero here tomorrow and upload all my pics and videos from Tuolomne to here…Long story short, the disk with those videos and pictures were accidentally left in Echo and it has yet to catch up with me. Unless there is some kind of miracle tomorrow, I'll have to partially load what I do have with me from that section. Then I will load the rest when I make my next extended stop in about 500mi in Ashland. It is frustrating for a perfectionist like me, but at least the disk isn't lost completely and the pics and videos will only be delayed a bit. Tomorrow, I'll see how I feel and then decide if I'm going to zero or just keep moving. We are all feeling the pressure of time, but my body and ankle is feeling that it needs a rest, so I'll see how I feel tomorrow.