Aug 19th
Crater Lake(1834.6)-Mt. Thielsen(1858.1)
Today's Mileage: 23.5mi
Today was a great first day of backpacking with my friend Jennifer who is joining me for five days to do just over 100mi. We stealth camped along Crater Lake last night and woke up early to watch the sunrise over the lake as we followed the PCT around the rim. Being able to see the sunrise after camping along the rim was pretty magical! I was so distracted that I forgot to take video as we hiked along the rim. Dang! The pics were great though!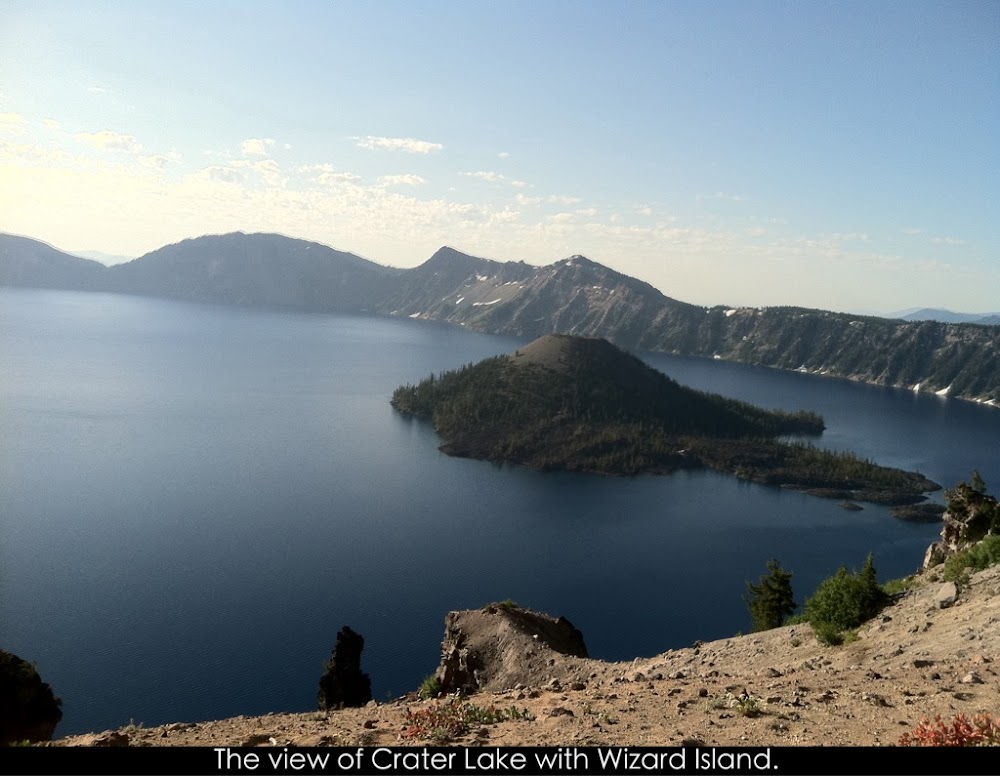 The trail was the best trail we've had to date. I had no idea what to expect and this section is great for thru hikers to have people visit. There are a lot resorts, lakes, and side trails that allow for many options. The only warning I would give is that there is a 24mi waterless section from Crater Lake. We made that easier on us by having Jennifer stash some water uptrail yesterday so we could carry less today. When we sat at a break in the late afternoon, Jennifer noted that I could have done some big miles on this trail today. She was right and it was great trail for possibly my biggest day yet, but it was more worth it to me to share the trail with her and take this picture.

I expected to see many hikers pass us by the end of the day, but the only PCTers we saw were Drop-n-Roll and Ninja. Drop-n-Roll actually decided to take a side trip when we passed the tour boats and Ninja continued on, so we'll probably see Drop-n-Roll tomorrow. After leaving the rim, the majority of the day was level or a gentle downhill. The goal was to average 20s. We weren't sure what Jennifer could do, so we just decided to hike and see how the day would go. She did great and we did 13mi by lunch. The rest of the day, we took our time with a lot of mini breaks when Jennifer needed. It was really great for me to just relax and take the trail in. One of our breaks turned into a quite lengthy one when we spent 30mins just laying in the trail with our feet up looking at this awesome view. So relaxing:)

At the end of the day, the uphill climb to Mt. Thielsen started and we had great views as clouds rolled in.

Jennifer got a second wind and wanted to finish the day off by starting the climb. We loved the views and it was a great way to end the day.

I heard there would be snow on the trail, so we decided to camp where the snow was spotted since we didn't know how thick it would get. We found a great spot in the woods just below Mt. Thielsen and it was only 6pm. We relaxingly set up tents and had dinner. As we ate, we heard thunder rumbling and it started to get closer. Within minutes, the clouds really rolled in and the rain came. We had just enough warning to get prepared and in our tents before the storm hit. Fortunately, we were just on the outskirt of it and it lasted less than an hour and it was more bark than bite. Unfortunately, I didn't get a chance to take a picture of our great campsite. It was kinda fun to have some excitement roll through while we were safe in our tents though. We just hope it doesn't return later in the night or tomorrow. What a great day!